Planning healthy meals is important. However, most people fail to include snacks. That can leave them starved at their next meal, so they overeat or even worse, grab a quick candy bar from the vending machine at work or some unhealthy snacks at the gas station/convenience store. Not only are healthy snacks lower in calories, they're higher in nutrition and can keep you feeling full and energized throughout the day.
Snacks that not only keep you feeling full, but also energized are important for mid-morning or afternoon.
When some people have the mid-morning or late afternoon energy drop, they reach for something sugary. That's the worst thing you can eat. You'll definitely get a quick boost of energy, but it won't last long. You'll get tired very soon, eat even more. Eventually, you'll have consumed half your daily calories. The right type of snack contains fiber, fat or protein, but also contains a carbohydrate for quicker energy. For instance, a half an avocado contains fat and fiber. Just mash it up and spread it on whole wheat toast or rice cakes.
Fruit is a pick-me-up and when combined with protein keeps you fuller longer.
Slice an apple and spread some peanut butter on it. Make sure you use the type of peanut butter that contains just one ingredient, peanuts. If you're not into peanut butter, combine that apple with a slice of cheese. The apple provides both the carbohydrates for quicker energy and the fiber that keeps you feeling full longer. The peanut butter or cheese provides the protein that keeps you feeling full.
Make your own trail mix.
Trail mix is a good snack if it's made correctly. You don't necessarily want ones that are filled with pretzels, peanut butter-white chocolate or milk chocolate chips, heavily sugared dried fruit and just a few nuts. You can make your own healthy mix with some dried fruit, seeds and raw nuts. You can even add some slivers of dark chocolate for extra sweetness or infuse it with air popped popcorn if you want more bulk. Make it in bulk and pack individual serving sizes for work.
Make yogurt parfait in jelly jar mason containers. Put a layer of each yogurt, fresh fruit, a half of banana sliced and top it with another layer of yogurt, then add nuts on top.
Make your own microwave popcorn or air popped popcorn. If you don't have a microwave at work, make it at home in a microwave safe container with a loose fitting lid and bring a bag to work.
Make your own roasted chickpeas or buy them. They're high in fiber and protein that can keep you feeling full. The serving size is a half cup and the 10 grams of protein and 5 grams of fiber should keep you full longer.
Make your own energy balls. Use wheat germ or toast oats in a pan until lightly browned. Mix a small amount of honey with peanut butter, then add to the oats/wheat germ. Form balls and roll them in excess wheat germ/oats.
For more information, contact us today at UpFit Training Academy
---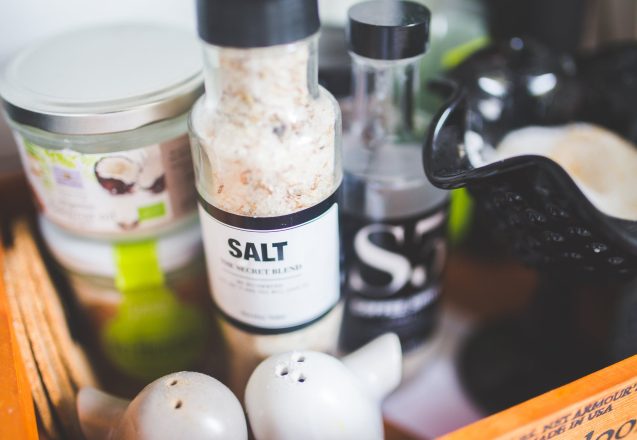 If your goal is weight loss, then cut back on the extra salt. It can help you reach your goals and benefit your weight loss. Salt does add water weight, which occurs because of the excess sodium. Water helps regulate the amount of sodium in your body. If you have too much sodium, the body retains water to dilute the amount of sodium. That causes water weight gain. The easiest way to reduce that gain is by drinking more water or other drinks like tea to flush out the sodium and eliminating added salt from your diet. Salt also plays a more injurious role in your body that leads to weight gain.
Recent studies identify one reason salt increases blood pressure.
Most people realize that a diet high in salt will increase blood pressure over time. Scientists decided to research exactly why that happens. One consideration was that people who have a diet high in salt drink more fluid, which may add calories or add more water weight. That didn't prove to be true. The study found that people whose diet was higher in salt actually drank less water or other drink. It also found that those people ate more and had an increased appetite.
The study was conducted under strict laboratory conditions.
Unlike most studies that have factors that can't be controlled, the research into salt and weight gain was conducted under strict lab conditions. It was part of the Russian space program preparing the cosmonauts for travel to Mars. The scientists conducted several experiments, one of which was how salt affected the body. The diet was unchanging, except for the amount of salt. At the onset, those in training were given food with twice the daily amount of salt, 12 grams. The diet was switched after several weeks and the amount of salt was reduced to 9 grams, and eventually lowered to 6 grams a day.
The experiment was clear.
When the cosmonauts were given the same diet higher in salt, most were constantly hungry. As the amount of salt in the diet was lowered, their appetite also diminished. The scientists concluded that the amount of salt made the difference, since it was the only variable. Other studies have backed up that hypothesis. One Australian study surmised that a diet higher in salt led to obesity in schoolchildren.
If you've ever craved something to eat that was juicy, like watermelon, your body may have tricked you into thinking you were hungry, but instead were thirsty. Salt may cause increased thirst that is mistaken for hunger.
When salt makes people thirsty, the extra weight extra salt can cause may come from drinking sugary drinks that add calories. It may be the reason that a third study found that a diet higher in salt increased caloric intake by 11%.
One explanation for the increased hunger after eating food with more salt or eating more food, is the fact that the food simply tasted better when it had more seasoning.
Whether salt is the biggest enemy to your weight loss program or not, cutting back on salt and using herbs and other spices will not only increase the flavor, but provide more benefits for your body.
For more information, contact us today at UpFit Training Academy
---
---
---
---
---
---
---
---
---